Everyone has that old pair of running shoes with their soles warn down, lining ripped out,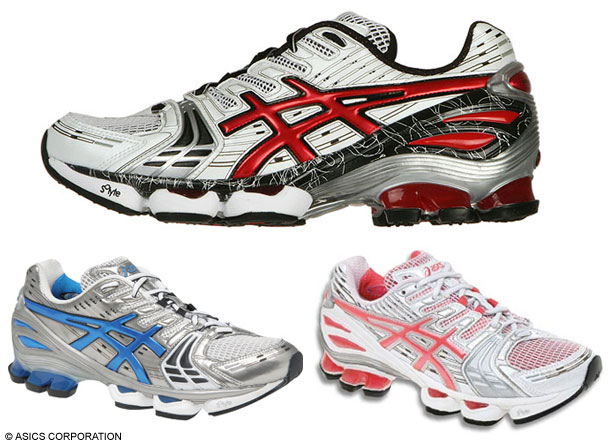 and arches gone but they just wont throw away. Although you may be sentimental about an old pair of shoes there comes a point where you need to throw in the towel and buying a new pair of running shoes. Trust me, your feet and back will thank you when you realize how much more support you are getting with a new shoe pair of running shoes. Although it may seem like all running shoes seem basically the same, this is not the case. There are many factors that go into making a shoe that every runner should know in order to figure out what shoe is best for their feet. The following is a list of things to look for when buying a new pair of running shoes.
1. When you run you want to be able to easily bend your forefoot while keeping the rest of your foot stabilized. An easy way to check for this is to try and bend the shoe. If the shoe easily bends in half at the middle of the sole then this is not a stabilizing shoe. However, if the shoe bends at the forefoot then the shoe passes the first test.
2. It is important that a running shoe is able to maximally support your foot in order to prevent ankle sprains. A quick test to check this is to grasp the shoe at the front and back and then try at twist the ends in opposite directions. There should be a fairly good amount of resistance to twisting or the shoe will not help prevent you from twisting an ankle.
3. To test the support of your heel a quick test is to try and push in on the left and right walls of the back of the shoe, above the heel. You should not be able to push in much because this part of the shoe should be able to resist these forces in order to stabilize your foot.
When you finally decide to get rid of that old pair of running shoes, remember to perform these simple tests in order to see which shoe is going to provide you the most support. If you have questions about which shoe will be best for your foot type then you will want to consult with a podiatrist. Most podiatrists keep a list in their office of which shoes are quality and which shoes are good for people with varying foot types and mechanics. A podiatrist can be a helpful tool in helping choose a shoe that is going to maximally support your feet in order to prevent injury.
——
Dr. Andrew Schneider is a podiatrist in private practice in Houston, TX. He is dedicated to maintaining the health and safety of the feet of athletes and return them to their sport as soon as possible after injury. For more information about foot health in sports, informative videos, and to order Dr. Schneider's FREE book, visit his website and his blog "The Houston Running Chronicles"